Pawleys Island is one of the best places to explore and experience coastal South Carolina. The waters surrounding our area offer excellent opportunities to see wildlife, explore coastal geography, and relax! This blog will examine visitors' options for kayak rentals, tours, and top places to explore. If you're planning a trip to Pawleys Island, get a copy of our Vacation Guide! Inside, you'll find all of the best places to experience in the area. We have everything from local landmarks to shopping and everything in between. Now, let's get your Pawleys Island kayak rental! 
Where to Find the Top Kayak Rentals on Pawley's Island
Surf The Earth
This retail shop and rental equipment provider is a Pawleys Island classic! Originally opening in 1990, Surf The Earth is one of the best places to swing by, grab some gear, and some new goodies. They are located on Ocean Highway in Pawleys Island, so getting here is a breeze! Kayak rentals come in several shapes and sizes, so review their site for details. 
PawleysKayaks.com
Pawleyskayaks.com also offers kayaks for rent! The possibilities here are endless, as they provide single and double kayaks and corresponding pricing for each. Whether you're looking for a single kayak for a day or a double kayak for the entire week, they have options! The best way to contact them is by calling, so be sure to get in contact and book your kayak for a fun-filled day! 
Pawleys Island Beach Service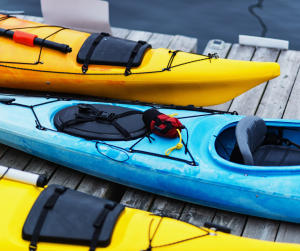 This provider is open seasonally and offers easy access to kayak rentals near the beach and marshes. Pawleys Island Beach Service has single and tandem kayaks. Pricing is listed according to the first day, extra days, and weekly rentals. Best of all, they offer pickup and delivery services to Pawleys Island, Litchfield, Huntington Beach State Park, and DeBordieu! Please stop by their Ocean Highway location and prepare to make Pawleys Island kayaking memories. 
Best Places to Explore
When kayaking on Pawleys Island, you must check out specific areas to get the entire experience! Here are a few options to choose from. 
The saltmarshes

 

The rivers

 

Huntington Beach State Park

 

The Intercoastal Waterway

 
Kayak Tours
Surf The Earth
In addition to offering equipment rentals, Surf The Earth also has eco-tours to enjoy! These tours wind through the waters of Hobcaw Barony, one of the healthiest coastal ecosystems in the U.S., and then a ride to a barrier island in the area. A scientist and naturalist lead the tours, so you'll learn more about the South Carolina coast! 
Black River Outdoors
Huntington Beach State Park is one of the most beautiful sites on Pawleys Island! Black River Outdoors offers a kayak experience here. This two-hour tour offers a glimpse into local wildlife, such as egrets, herons, bald eagles, osprey, ducks, and other wildlife. These tours are offered on Tuesdays year-round, so plan! 
Rest up after a day of kayaking with Dunes Beach Home Rentals!
You'll be ready to rest and recover after exploring Pawleys Island via kayak. Luckily, we have the perfect vacation rental homes to provide you with an exceptional home away from home! Our rentals come in all shapes and sizes and offer amenities to complement your stay. Private pools, homes for large groups, and pet-friendly homes are all available for rent. Review our entire collection and find the ideal home for you and your family.