Land-based fun on Pawleys Island is always a treat, but there's a lot to be said for time out on the water. When you're looking to hit the waves in style, there are great options for area boat rentals that are sure to thrill. The following are a few to consider the next time you're in the area!
If you're planning a trip to Pawleys Island, get a copy of our Vacation Guide! Inside, you'll find all of the best places to experience in the area. We have everything from local landmarks to shopping and everything in between. Now, let's get your Pawleys Island boat rental! 
Pawleys Kayaks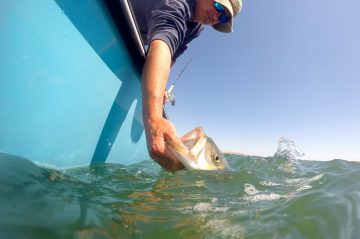 Don't let the name fool you as Pawleys Kayaks is a one-stop resource for on-the-water fun beyond kayaking as well! In addition to quality kayaks, this company is happy to rent out boats to those who are spending time away in either Pawley Island or Litchfield Beach. Pawleys Kayaks operates on a delivery model exclusively. The exclusion of a storefront allows them to keep prices low, giving guests even more reasons to return and rent time and again.
Pawleys Kayaks rents out Jon Boats upon request that are ideally designed for everything from still fishing and crabbing to trolling or nature viewing too. Many visitors rent these vessels in order to enjoy customized evening cruises! When you rent a boat through Pawleys Kayaks, you'll receive life jackets, paddles, a throwable flotation and whistles as well as an anchor and line, a three-gallon gas tank, two swivel seats, and a three-rod vertical rod holder as well.
If your outing is designed with a focus on fishing, they'll even throw in a portable minnow bucket, cooler and landing net free of charge. These rentals are made for use in the local estuaries and creeks behind Pawleys Island and Litchfield Beach. They can carry up to 3 passengers at a time and can be reserved and conveniently delivered simply by calling 843-315-4567. 1-day through 7-day rentals are available starting at $175 for a single day and up to $600 for a 7-day rental.
Beach House Boat Rentals
Another great option for those looking to enjoy boat rentals near Pawleys Island is Beach House Boat Rentals. Located at both the Wacca Wache Marina and the Dead Dog Saloon in nearby Murrells Inlet, Beach House Boat Rentals has rental options for guests ranging from pontoon boats and deck boats to center console fishing boats and Jon boats alike.
This family-owned company always takes time to provide those booking boats with a briefing on the vessel features and how to safely operate it to make for a successful and safe experience out on the water. They're also happy to give advice on the best pull-up waterfront restaurants to check out when cravings come calling! Half-day and full-day rentals as well as multi-day rental options are readily available at Beach House Boat Rentals where prices range from $189 for a half-day on the water up to $1,277 for seven-day rentals of large pontoon boats.
Beach House Boat Rentals operates daily between 8:30 am and 5:30 pm and offers convenient vessel pick-up and return options that fit your schedule.
Book Today
When you're ready to enjoy a well-deserved vacation, Dunes Beach Home Rentals is here to make sure you have the luxurious accommodations in place to top it all off in style. We have the perfect vacation rental homes to provide you with an exceptional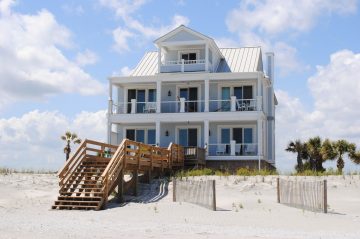 home away from home! Our rentals come in all shapes and sizes and offer amenities to complement your stay. Private pools, homes for large groups, and pet-friendly homes are all available for rent. Review our entire collection and find the ideal home for you and your family.