It's that time to celebrate mom! Mother's Day on Pawleys Island is the perfect beach getaway for mom. Our moms do a lot for us, and we can show them how much we care by planning her a great trip of outdoor fun, shopping, and dining. Who wouldn't want to take mom to the beach and celebrate just how wonderful she is? 
When you're ready to give mom the best gift, you can access our free vacation guide! 
How to Make the Most of Your Mother's Day on Pawleys Island
1. Outdoor Activities
The number of outdoor options available to you and your mom on Pawleys Island is almost limitless. You can spend some time soaking up the sun on the beach, or you can hit the links for a round of golf. You can charter a boat to go fishing, or you can test your luck at crabbing. You can take mom parasailing or you can enjoy a nice bike ride on the beach. No matter what you choose, there is something for every mom! 
View this post on Instagram
2. Dining
The dining on Pawleys Island is some of the best in SC. Mom will be sure to love some of these fantastic restaurants. Rustic Table offers great food at affordable prices. They provide upscale southern cuisine that can't be beaten! 
Austin's Ocean One is a wonderful place to take mom for a finer dining experience. Their menu is seasonal New American, and their service and food are outstanding. You can check out these two restaurants or read more about our favorite Pawleys Island restaurants! 
View this post on Instagram
3. Shopping
The Hammock Shops Village will delight mom with more than 21 shops and two restaurants. It's not just for mom though. The whole family can enjoy this central feature of Pawleys Island. For mom, she can check out all the great stores while the kids play corn hole, hang out on the playground, or enjoy live music. The village has a little something for everyone for a fun day out! You can also see our other recommendations for the best shopping on Pawleys Island.  
4. Spas
Mother's Day wouldn't be complete without pampering mom with a relaxing spa day. The island has many great spas to choose from, and either one of these locations would be a perfect mother-daughter trip for a few hours! Spa Sera has been around since 2005 and provides some of the best day experiences around. The number of services they offer is too many to list! You can book an appointment for mom, or you can get her a gift certificate for her to use anytime she chooses.  
South Pawleys Spa is a highly rated spa on Pawleys Island. You book appointments with the therapist as each manages their own schedule. They offer a wide variety of services and treatments, including massage therapy, facials, and nails.  
Shower Mom This Mother's Day at Your Dunes Beach Property
With all this fun, you will need the perfect place to stay! Dunes Beach Home Rentals is your choice for Mother's Day on Pawleys Island.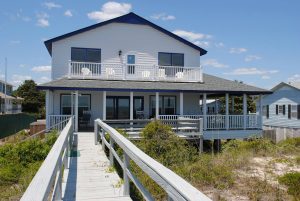 We can accommodate whole families in spacious rental homes with all the proper amenities. We will even accommodate your furry family members!  
Be sure to check the availability of the perfect property for you and your family!