When we go to the beach, our main goal is usually to get the best tan and relax. We want to enjoy the peace that the ocean brings. After those long days enjoying our vacation though, we want to know where to find the greatest pizza. Have no fear, we're going to tell you where to get the best pizza in Pawleys Island! 
As soon as you're ready to begin planning your escape and getting your hands on some of the pizza, be sure to request our free vacation guide! 
We Have You Covered for the Best Pizza in Pawleys Island
Landolfi's has been a family business for more than four generations! They offer some of the best pizza in town along with many other options, including delicious desserts. They also offer vegan and vegetarian options on the menu. Often described as "a getaway from tourist traps," you can't go wrong taking the family to Landolfi's! 
Massey's is actually an Ohio-based pizzeria that has begun to "wow" the patrons of Pawleys Island. At Massey's, you can find your traditional pizzeria menu but also check out their sports bar selection of food and beverages. Voted the #1 Pizza in Columbus, you can see why they're making their mark on SC! 
R'Way prides itself on its family ownership and providing the best pizza with local ingredients. You can have your food delivered, or you can dine in to take advantage of their specials, happy hour, and simply relax with your family. Maybe, watch a game. You can't go wrong choosing R'Way as your way to great pizza.  
DeRoMa's has an interesting story behind it. In 2000, owner Bob Hoffman came down from New York and brought that infamous style of pizza with him. He named the pizzeria after his children Deanna, Robert, and Madeline, so no, your eyes aren't playing tricks on you reading the name. One of the best-selling pizza restaurants in town, DeRoMa's continues to delight locals and tourists alike! 
One of the newer hidden gems on Pawleys Island, South End Bistro is beginning to make a lot of noise in the restaurant business. They offer a wide menu of dishes and daily specials. Their pizza may be relatively new, but it's quickly becoming a favorite among everyone! 
Bring Your Pizza Back to Your Dunes Beach Rental
Of course, now that you've experienced the best pizza in Pawleys Island, you may also want to find out what makes a great summer on Litchfield Beach and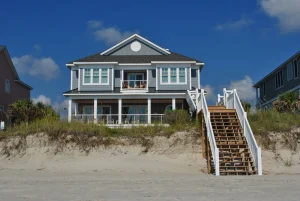 some of the top outdoor activities on Pawleys Island! During your visit, allow Dunes Beach Home Rentals to be your home away from home. We offer rentals that fit any size and budget. Whether you're bringing the whole family or want a couple's getaway, we have the property for you! 
Start planning your escape by booking today. We can't wait to welcome you to the Dunes Beach family!