Sometimes finding the perfect summer activities for the family can be a daunting task. Everyone has different interests and tastes in what they like to do. Luckily, Pawleys Island and the surrounding areas offer plenty of options for family fun and excitement. Whether you want to play a round of mini-golf or spend the day outdoors kayaking, you have the ability to make everyone happy! 
As you begin to plan your summer activities, be sure to access our free vacation guide! 
Summer Activities at Your Fingertips
Miniature golf is a typical favorite for most families. It's fun for you and the kids no matter their age. Gilligan's Mini Golf is open 7 days a week and is one of the most fun courses around Pawleys Island. They offer highly affordable prices to play all day on both of their 18-hole courses, play a single round, or even purchase a season pass for cheaper than a usual admission ticket to a theme park! 
View this post on Instagram
One of the most unique golf centers you will find! They offer traditional golf for avid golf lovers, a 9-hole par 3 course, disc golf, and soccer golf. Another low-cost course, they offer plenty of fun for the whole family. You can book your round of 18 holes while the kids play soccer golf. Everyone can join in on the fun and choose how they want to play!  
Brookgreen Gardens is the place to go for a more relaxing day of adventures. You can hang out in the botanical gardens or take a peek at the three different art galleries around the gardens. If you want a little more pace, you can take everyone through the Lowcountry history tours by boat or bus or check out all the animals at the Lowcountry Zoo. This place has it all! 
This castle was built by Archer Huntington during the Great Depression as a winter home away from New York. The history of the castle is fascinating. During WWII, the Huntington's allowed the US Air Corps to use it as a barracks until the war was over. It's a striking blend of Spanish and Moorish design along with some of Archer's own flare! 
Nothing beats a day out on the water with your family. Pawleys Kayaks offers an abundance of various kayaks and boat rentals to give you many choices. All of their prices are affordable and include everything from the boat, paddles, life jackets, and even taxes! They pride themselves on never overcharging or having hidden fees. Don't wait to get out on the water! 
View this post on Instagram
Surf the Earth is Pawleys Island's top surf school. You can take lessons in surfing and paddleboarding. You can rent your own paddleboard, kayak, body board, or surfboard. You can take a lesson as a family to learn something new together. Depending on your trip, you can also book the kids a full-week surf camp class. Don't be afraid to send the kids off while the parents find activities of their own!  
No Matter the Fun, Stay with Dunes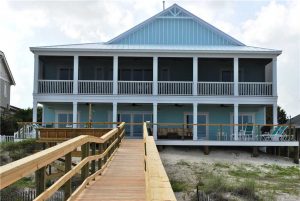 You've spent plenty of time planning all of your summer activities for the family, so where will you stay? Here at Dunes Beach Home Rentals, we offer a large selection of properties to maximize your budget and the size of your family. You can choose from oceanfront homes and condos and many other complexes for the perfect stay!  
Don't waste another minute looking around! We would love to support your family's getaway to Pawleys Island!