Any time you go to the beach, you look for the best places to get food, mainly seafood. You can find the most mouthwatering seafood in Pawleys Island without having to search very far. Whether you're looking for the best local eateries or you want a delectable seafood dining experience, Pawleys Island can provide both! 
When you're ready to begin planning your trip to Pawleys Island, be sure to request our free vacation guide for all the best things to do! 
Where to Get the Best Seafood
Everyone's taste is different when it comes to their dining experiences. Some people look for the local shacks, dives, and diners. Some want the experience of fine dining. No matter which side you fall on Pawleys Island has the seafood experience you need! 
Our Favorite Local Seafood Spots
Hanser House is a family-owned restaurant in the North Litchfield Beach section of Pawleys Island. They are a relaxed, full-bar restaurant, providing homestyle favorites and local seafood. Choose from delicious seafood-inspired soups, the Litchfield Combo, or a specialty entrée like the catch of the day. It's a great atmosphere and a favorite with the locals! 
Captain John's Seafood Grill has been around for more than 18 years. They specialize in New England-style seafood but down in the South! Their food is extremely affordable and there is a wide selection. You can try any one of their appetizers like the New England Clam Chowder or order a crab cake dinner. Get the taste of New England at this local favorite!  
Pawley's Raw Bar is proud of its rustic, crab shack look and atmosphere and they should be! You can start with their delicious gator bites before moving on to one of their famous raw bar selections or Pawley's specialties. Their food is affordable and great!  
Pawleys Island Tavern boasts about being "classically shabby." Their menu is highly inexpensive and features a large selection of various foods from calamari to pizza. They also have local entertainment and events! 
View this post on Instagram
Wonderful Fine-Dining Options
Austin's Ocean One operates two restaurants on the beach. These favorites offer first-class dining on a variety of seafood from lobster to tuna. You can visit either one and have the incredible dining experience you crave! 
Perrone's Market prides itself on having an ever-evolving menu. Their food ranges from a fresh catch straight from Murrells Inlet down to seafood flavored from around the world, including Bangkok and Mongolian-inspired tastes. It's a must-try dining adventure for your taste buds. 
View this post on Instagram
Chive Blossom is as close to fine-dining as you can get for your seafood needs. You can check out their charred octopus to start with and pair it with one of their masterful main dishes such as the Southern Bouillabaisse. 
Frank's Restaurant & Bar and Frank's Outback & Bar for locals is known as just Frank's and Frank's Outback. Both are run and operated together and offer the same great food and service. It's one of the premier dining experiences on Pawleys Island! 
Before Sampling All the Seafood, Book Your Stay with Dunes Beach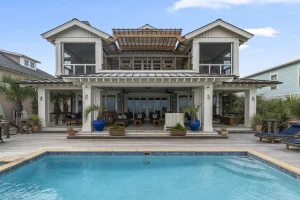 Now that you know where to get the best seafood in Pawleys Island, you can immerse yourself in everything you can do this summer on Litchfield Beach and indulge in the best outdoor activities. No matter how you spend your time, book your stay with Dunes Beach Resort Rentals! 
Whether you want an oceanfront home or an oceanside condo, we have the properties, amenities, and sizes for the whole family!