Oysters are a South Carolina favorite, and we have no shortage of them in Pawleys Island! This blog will cover cooking methods and where to find them around the area! Pawleys Island is the place to be for these delicacies and a great vacation. If you're looking to visit the South Carolina coast, our Vacation Guide is your secret to an unforgettable visit! Be sure to download your copy for all the best insider tips. Explore local events, fun activities, and much more!  
Best Oysters in Pawleys Island 
Best Time of Year to Enjoy Oysters
Oysters can be enjoyed all year long, but they are excellent during the cooler months, from October through April. This is because oysters spawn in the summer and are less plump and flavorful during this time. A good rule of thumb is to eat oysters in months that end in "r." 
Types of Oysters
Oysters are prepared in several ways. From raw oysters to fried, everyone can try the delicious dish! The most popular methods range from no cooking at all to frying them to perfection. No matter how you approach the cuisine of the oysters, you will surely enjoy their delicious flavor and come back for more! 
Raw Oysters
If you love oysters but have never eaten them raw, you're in for a real treat. Raw oysters are best eaten with a bit of lemon juice and hot sauce. The acidity of the lemon juice opens up the oyster flavors, and the hot sauce adds a nice kick. Pair your raw oysters with a glass of Sauvignon Blanc and enjoy a fantastic fall evening! 
Steamed Oysters
Steamed oysters are a Pawleys Island tradition. This is an excellent alternative if you don't like them raw. Steamed oysters are also a great option if you're feeding a crowd because they can be prepared ahead of time. Simply shuck the oysters and place them on a tray. Cover the tray with foil and put it in a 350-degree oven for 10-12 minutes, or until the oysters are cooked through. 
Fried Oysters
Fried oysters are a Southern classic. These oysters are perfect for those who like fully cooked food but still want a flavorful treat. They are usually breaded and fried in a mixture of cornmeal and flour. Fried oysters can be enjoyed as an appetizer or main course. Serve them with a side of tartar sauce or cocktail sauce for dipping. 
Where Can I Find Oysters in Pawleys Island?
You can find oysters at most seafood restaurants in Pawleys Island. Our local seafood restaurants serve fresh oysters daily, and you won't be disappointed! Frank's Restaurant, Pawley's Raw Bar, and Rustic Table are just a few local favorites to visit! 
After Shucking Oysters, Cozy up in One of Our Homes!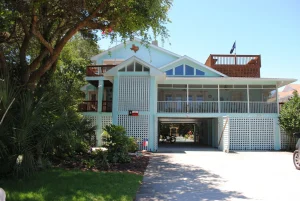 Pawleys Island is a gem on the South Carolina coast. Visitors enjoy quiet beaches, tucked-away neighborhoods, and a relaxing pace when they visit our town. Browse our rental homes, and find your seaside retreat. We look forward to seeing you here in beautiful Pawleys Island!